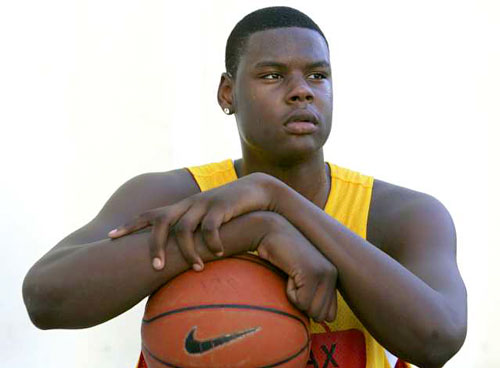 It is fair to say that it has been a wild year for basketball agent Johnny Foster.  At first, it appeared that Foster was on his way to a somewhat quiet, but solid, group of new prospects to represent.  He signed Darryl "Truck" Bryant of West Virginia and Julian Mavunga of Miami Ohio.  Neither player was listed on the myriad of NBA Mock Drafts spread across the internet, but even if the two do not find a spot on an NBA or D-League team, Foster believed they would be wanted by clubs overseas. But then Renardo Sidney came along.
Sidney, a player who was once ranked the seventh best player in the country and predicted to play at big programs like UCLA and USC, was first signed to Travis King of Happy Walters' company Rogue Sports.  I do not currently know the reasoning behind the breakup between Sidney and Walters, but I do know that Sidney eventually chose Foster to be his representative.
Sidney never lived up to his expectations at Mississippi State (where he ended up playing when he wasn't suspended), but Foster saw the young man's size and potential talent and remained hopeful.  Foster tells me that he made the choice to devote his time and effort into Sidney, being by his side while he was training and conditioning, getting Sidney workouts, and traveling with Sidney to meet with team personnel.  The commitment to Sidney forced Foster to make the conscious decision that he could no longer set aside enough of his time to Mavunga (link) and Bryant (link).  Soon after writing about Mavunga's departure from Foster, both the player and agent wrote to me that they decided to go separate ways because they "didn't see eye to eye."
So Foster set out to work as hard as he could to show NBA scouts why Renardo Sidney was just as talented and coveted as he was coming out of high school.  Except after some time by his side, Foster had to separate himself from the 6'10 center.  At one point in time, Foster told me that Sidney was making great progress with his game.  Now, the talk around basketball circles is that Sidney fails to show up at workouts, and when he does show up, he does not always put forth the effort that NBA personnel are looking for.  It got to the point where Foster believed it was in his best interest to move on.
Over a month ago, Foster represented three professional basketball prospects.  Today, none of them remain his clients.  However, Foster appears to be quite fine with that.  He tells me that he remains on very good terms with Mavunga and Bryant and wants nothing but the best for those two players, in addition to Renardo Sidney.  Foster says that he will focus on placing his other players in good situations overseas and will certainly be busy over the coming months.