Justin Garrity is the President of TigerLogic whose product, Postano, is on the cutting edge of integrating social media and sports. Brian Cheek is the Business Development Manager for Sports at Postano. Postano is currently working with some of the top teams and venues in the world. Check out their website here.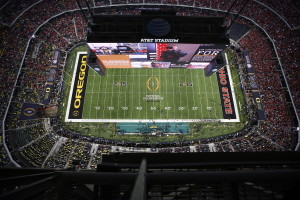 (1) What services does Postano offer within the sports industry? What is the connection between Postano and TigerLogic?
TigerLogic is the corporate entity and Postano is a product. Postano is a fan engagement solution that enables teams and brands to curate and visualize social conversation in venues, stores, on websites and mobile apps. For websites and mobile apps, Postano offers multiple responsive formats including social carousels and full page social hubs. In venues Postano provides multiple animated social visualization formats as well as interactive formats including social voting visualizations.
(2) How did the two of you first get involved with Postano?
Brian – I have been with Tigerlogic since 2001 and took at active role with Postano four years ago. I took an active role in leading the sports initiative with Postano two years ago, working closely with leagues, teams, venues, and sponsors.
Justin – I was part of a strategic acquisition two years ago and have led the innovation and growth of Postano since.  I am passionate about the role of social media with fan engagement and work closely with our engineering and design teams to create new innovative offerings for our customers.
(3) Where do you see the future of social media in relation to fan engagement in sports/venues?
Social media is on the rise in sports venues. Never before have fans been so empowered to post and publish their thoughts, photos, and videos in support of their team. Venues are stepping up their game by upgrading wifi coverage and integrating more screens into the arena as well as around the venue with social walls and displays. Venues are creating unique experiences for fans that are not available at home. Social media visualizations in venue are the new fan cam and now they have the power to take selfies rather than wait for the panning camera that are then selected to display on the large venue displays.
(4) How do you show teams that your services will be profitable and/or beneficial to them?
Postano creates a unique experience where fans compete to be featured up on the big board. By participating through the official hashtags, this volume of social posts increased dramatically when the visualization is shared and fans are asked to participate. We have seen increases of over 400% in social activity when Postano is used in venue. This creates a more interactive and engaging experience for fans and it provides the additional benefit of all of that additional activity hitting the social timelines for each of those fans, letting their friends know they are at the game and having a great time. In addition, sponsors are very receptive to aligning their brands with social activations which creates new revenue sources for the team.
(5) What teams/leagues are you currently working with and do you see potential to work in any other sports?
We work with dozens of teams across NCAA, Minor League, and Professional leagues. Some of our partners include; LA Kings, Boston Red Sox, Portland Trailblazers, San Diego Padres, Toronto Maple Leafs. In addition, we work with other sports including; Monster Jam, Supercross, and other "X-Game" type sports.
(6) What advice do you have for those looking to work in social media in the sports industry?
Find a way to get in an organization. Internships are always a great path. Familiarize yourself and participate on all social media platforms looking to engage with the existing fan community. If you develop meaningful positive exchanges on social networks with other fans, your influence will have value.