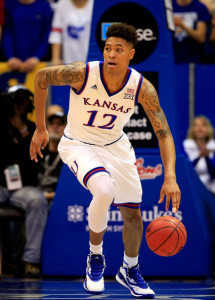 Bill Duffy of BDA Sports Management has signed University of Kansas Freshman Kelly Oubre Jr. Oubre averaged 9.25 points and 4.97 rebounds during this past season with the Jayhawks. Oubre earned Big 12 All-Rookie Team & All-Big 12 Honorable Mention honors.
Duffy currently represents 30+ NBA players which include Klay Thompson, Rajon Rondo, and last year's draft number one pick Andrew Wiggins.
BDA Sports Management, founded in 1998 is a global, full-service athlete management, agency and marketing firm providing services to professional basketball players. Their goal is to provide each client with the highest quality representation, unmatched personal attention, guidance and services to athletes who want to maximize their potential on and off the court. The agency consists of industry professionals with countless years of experience in contract negotiations, marketing, public relations, community relations, digital media and brand building.