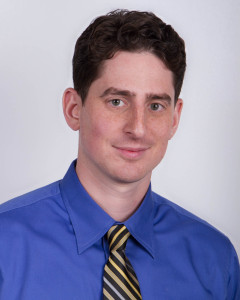 In just three years, Aaron Swerdlow has worked his way up to Managing Director at Kauffman Sports Management Group. Kauffman Sports represents some of the premier coaches and executives in the NBA and NCAA. Connect with Aaron on LinkedIn and Twitter. The following "Six Questions" short interview was conducted by our Assistant Editor, Cameron Chung.
(1) When did you realize that you wanted to pursue a career as a sports agent and what specifically interested you in this career?
During my second year at the University of Wisconsin, I began working for the Wisconsin Athletic Department. As I worked and became friends with prominent basketball and football players, I realized many of these individuals face unique challenges as they tried to advance their careers and would benefit from trustworthy agents and attorneys to help transform their talent into opportunities at the professional level. After having the opportunity to experience various areas of legal practice, I realized my enthusiasm for helping athletes and former athletes had remained constant. I was presented with the opportunity to start working with the Kauffman Sports Management Group (KSMG), which is a boutique agency exclusively representing basketball coaches and executives in the NBA and NCAA.
(2) Where did you go to college as an undergrad? Did you pursue a graduate degree or any internships to further market yourself in the sports industry?
I attended the University of Wisconsin and remain a very proud Badger.  I did my graduate work at Georgetown Law, where I took numerous MBA classes. Regarding internships, my five years at the Wisconsin Athletic Department and the skills I acquired in my marketing, entrepreneurship and leadership MBA courses have been invaluable resources for my work. It is not necessary to attend law school in order to be an agent, but for those that do, I recommend rounding out your education with elective transactional law and MBA coursework.
(3) What are the major differences in representing coaches and executives as opposed to athletes?
A majority of our clients are former NBA players (e.g., Patrick Ewing, Mark Price), so the interpersonal dynamics are similar to those for player representation. Our clients are at a different stage of their personal and professional lives though. We are able to get more creative legally with coach and executive contracts (e.g., bonuses, buyouts) because coaches and executives are not bound by as many NBA and collegiate rules and regulations. There are also somewhat different influencers and decision makers involved with the hiring of coaches and executives as opposed to players. For our college coaching clients, we work closely with athletic directors, search firms, and other key influencers. These parties rarely are involved in athlete representation.
(4) Take our readers through a typical day in your life.
There is no such thing as a typical day. It varies greatly depending on the time of year. I begin most days by reading industry news and developments on sports news websites, blogs and Twitter and subsequently brief our staff on relevant collegiate and sports law matters. Throughout the day, I am in direct contact with clients and potential clients, most often on the phone. This time of year (the summer), contracts and extensions for clients need to be reviewed. I work closely with our president and managing partner to ensure that clients' employment agreements afford them the greatest opportunities, incentives and legal protections possible. This involves negotiating, drafting and revising contracts, which we often do in conjunction with a team or university's in-house legal counsel.
During the college and NBA season, I spend a lot of time watching basketball and studying clients and their teams. Our Los Angeles office is across the street from the STAPLES Center, so it is very convenient for clients to visit our office while in Los Angeles to play the Lakers or Clippers or in the area to play one of the many NCAA programs nearby. During the season, we have more time to informally build relationships with clients and potential clients.
(5) If there was one thing about the sports industry you could change, what would that be and why?
Like most professions, I think there should be a minimum education level required and ethics rules to be certified to work with both players and coaches. Currently, the National Basketball Players Association must certify NBA player representatives, though these regulations governing agents have been sporadically enforced historically. There are no similar certifications or standards for coaching representation. I don't think a graduate education should be the minimum, but I believe the ethics of those in the industry and the value provided to clients would be improved with some educational and ethical standards. In the law, for example, attorneys are bound by very detailed rules of professional conduct. There are mechanisms in place to educate attorneys about these rules and enforce them when necessary. I believe coaches, as well as athletes, would be better served during and after their careers by representatives who must meet educational and ethical standards with proper enforcement mechanisms.
(6) What advice do you have for young professionals looking to enter the sports representation business?
Remain humble, work very hard and don't be afraid to leverage your network. It is a difficult industry to break into and individuals in entry-level positions with sports representation organizations may be asked to complete tasks below their education level, training or abilities. The best way to become indispensible to an organization is to do an exemplary job on every task assigned to you. This requires a very strong work ethic, discipline and the ability to anticipate what supervisors and clients need. Use your free time to develop the skills and work product most beneficial to clients and others at the organization. Lastly, don't hesitate to utilize your network from school, family and friends to open doors in the industry. Be persistent when networking and confident in your ability to add value to an organization and its clientele.