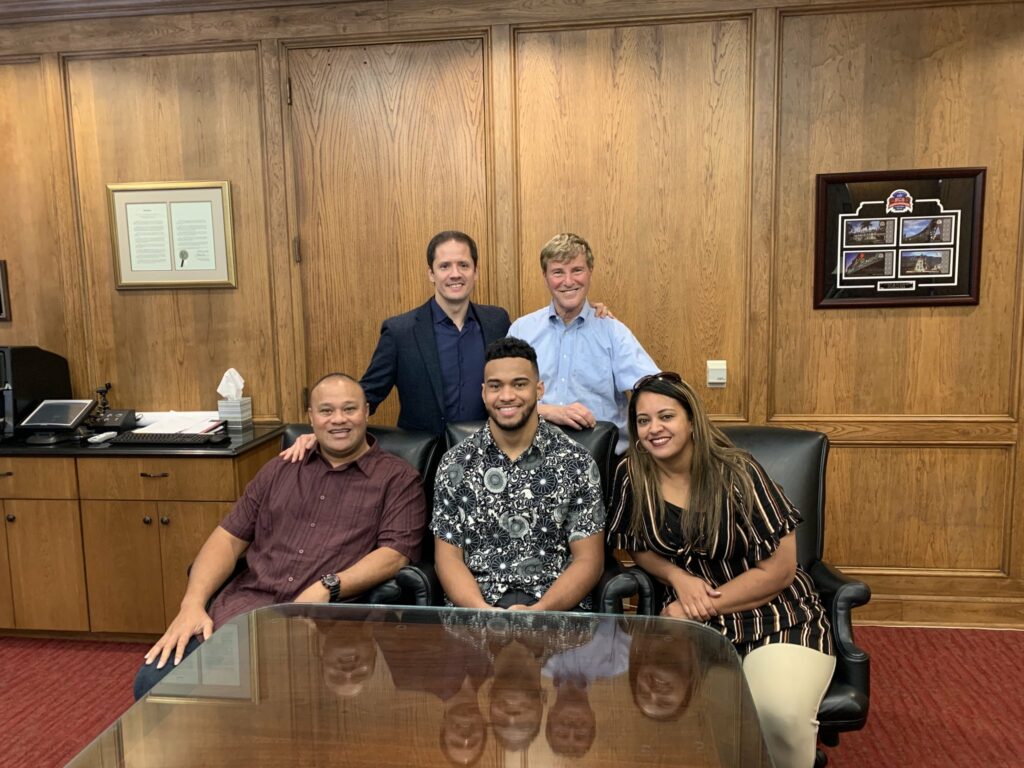 Alabama quarterback Tua Tagovailoa will forgo his senior season and declare for the 2020 NFL Draft.
Leigh Steinberg and Chris Cabott of Steinberg Sports and Entertainment will represent Tagovailoa.
Tagovailoa, who missed the final three games of the season recovering from hip surgery, is a projected 1st round draft pick. He is still recovering from the dislocated hip injury (which happened in the November game with the Mississippi State) and the surgery that followed. Moreover, according to Lyle Cain, the orthopedic surgeon from the Alabama team, Tua should be off athletic activity until mid-February and he may take up until spring to be in full game mode. But, despite his injury, Mel Kiper has the star quarterback as 3rd overall on his draft board.
The Crimson Tide quarterback set school records for pass touchdowns (87) and 300-yard games (10) at Alabama. His QBR of 93.4 is the best in the history of the metric that began in 2004. He ranks 3rd all time is passing yards with 7,442 yards. Tagovailoa finished 2nd and 10th in the Heisman Voting in 2018 and 2019, respectively.
Even though there will be speculation of Tagovailoa's health from now until Draft day, it is certain that under Leigh Steinberg and Chris Cabott's leadership, he will be in the best situation possible once Roger Goodell calls his name on draft day.
While there may be some people who will judge him for the decision to forgo his senior season at Alabama Crimson Tide, the decision to start your journey towards becoming a pro is time-sensitive and depends on a wide array of factors. If you want, it's a bit like gambling in an online casino – if you get too comfortable or wait too long for your shot, you might miss your opportunity.
Of course, considering his injury, his sponsors are also gambling their support (financial and otherwise). Steinberg Sports and Entertainment values the importance of high character, high integrity young men who strive to make a positive impact in the world both on and off the field. And, according to Nick Saban, the Alabama Crimson Tide head coach, Tagovailoa is a great leader with an amazing spirit that can motivate his teammates with his positive attitude. He also admires the quarterback for his strength, since he had to overcome a lot of adversity, other than his recent injury.
SSE's clientele includes Chiefs QB Patrick Mahomes, Packers RB Aaron Jones, Packers RB Jamaal Williams, Titans LB Jayon Brown and Buccaneers RB Ronald Jones II.
Tagovailoa is cherished for his impact at the Alabama Crismon Tide since he was not just a great player, but also a good student and a wonderful team member. However, there comes a time for any athlete in such programs to make a decision with regards to his or her features. Young athletes have two options: they can opt to continue their studies or they can look for support in their journey to being pro players. Tua proved to be a valuable quarterback for his team, so he has a good chance to become one of the best football players of our time.