This last year, social justice had a rebirth. There continues to be an outpouring of support for disenfranchised groups, but more importantly, there is action. Engage is taking part in that action. In coordination with Martin Luther King III, athletes and their agencies like CSE Talent, Radegen Sports and Entertainment, MVP Sports Group, Advantage One Group, Lyon Sports Group, have gotten involved to further the importance of this discussion and to, more importantly, raise money for the Drum Major Institute. This non-profit, first started by Reverend Dr. Martin Luther King, Jr., continues the work for racial equality, voting rights and reform, and economic justice using a common-sense approach to solving community and social problems.
Engage is a web-based platform digitizing the process of booking talent for anything from a speech to a once in a lifetime experience. This collaboration between Engage and MLK III is poised to be one of those experiences. Athletes have launched their coordinating sweepstakes on Martin Luther King, Jr. Day, and the sweepstakes will lead up to the anniversary of the Reverend's assassination on April 4th. The culmination will be a discussion with MLK III and a number of athletes on that date. The founders of Engage, Noah Schwartz and Daniel Hennes, spoke with Sports Agent Blog to discuss their desire to be a part of the social justice movement.

SAB: How did a group of LA-based athletes link up with Martin Luther King III, and his initiative in Atlanta?

Daniel: It actually came together because one of our corporate clients back in August reached out asking if we knew him because they wanted him to speak at a company conference, and we didn't. So, I reached out to his team and chief of staff, Jennifer Gold, who is awesome. We started chatting about bigger initiatives and she mentioned to us that one of the main things Martin was focused on for 2021 was continuing to raise money for the Drum Major Institute. We went to Jennifer and basically said look if we could get a group of athletes to come together to do a sweepstakes where they give away a bunch of prizes and proceeds benefit the DMI, is this something Martin would be interested in? She said absolutely yes, and from there we were off and running.

SAB: Is this is this Engage's first foray jumping into the social justice arena? If so, what are your future plans to maybe continue with this and helping bring awareness?

Noah: This is our first foray into the social justice arena, but this isn't necessarily our first foray into an experience like this one, working with an organization or a charity or a specific group of interests. We have worked with food banks and other organizations around the country to develop sweepstakes in the past. We have done campaigns with Sportscenter anchor Linda Cohn and the LA food bank, we raised money for the Arizona food bank with LeGarrette Blount, we worked with Udonis Haslem (who's part of our current sweepstakes with MLK) to do a fundraiser around his foundation and called Power Forward through Hunger, and have done a ton of other ones with various athletes. In terms of our plans going forward, we see this as a recurring thing that we can continue to do with different athletes and agencies surrounding major days in the year, like Martin Luther King Day, but also around their interests and days and organizations that they would like to promote. So, in terms of in the pipeline, there isn't necessarily another one of these planned to date, but there is going to be work towards similar style initiatives. We are having a lot of exciting conversations in this area so stay tuned.

SAB: Do you find that the agents themselves are generally supportive of their athletes being a part of these types of things, speaking up to help an initiative or issue, or do you find that there are concerns around being too outspoken?

Daniel: Both Noah and I were extraordinarilu pleased at how many agents' initial response was "Yes! How can we help our guys be part of this?" Our business exists because of agent partners who are willing to work with us. We were lucky to have so many people from different agencies across the country who that wasn't even a question for them at all. It was how can we get involved to make this as big as possible. I think the key is any good agent recognizes when the cause is something that their client is passionate about, they're going to look good for bringing them an opportunity in that space. We don't try to force people to be part of what we are doing when it isn't a fit. It is all about finding people who are genuinely interested in the cause and getting them on board. Our agent partners have all been fantastic.

SAB: How did you two come together? At USC?

Daniel: Yeah we came together at USC. I'm class of 2019. Noah is class of 2020. My roommate freshman year was Jake Olson, who was the blind long snapper for our football team. When he got his first chance to play in 2017, the story went viral and we needed a better platform to handle all of his speaking engagements and appearances, so that led to us founding Engage. Noah was a year behind me at USC and we became friends quickly and Jake and I knew he was someone we wanted to bring onboard. It's been really cool to see Engage grow since we first started it. Sweepstakes weren't even on our radar at all when we first started this a couple years ago, and it's been cool to see how things have evolved and opportunities have come our way.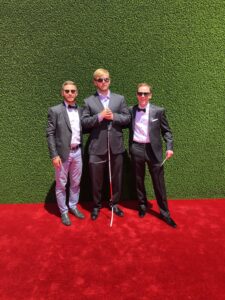 SAB: What does Mr. King have in mind in terms of the discussion on April 4th?

Daniel: It is going to be a moderated discussion. One of my clients, Ryan Harris is going to moderate the discussion with Martin. Everyone who enters the sweepstakes automatically gets to listen in on this conversation and take part. Basically, what Martin is going to do is use it as a forum to share his story and have athletes come on at various points throughout the discussion to participate and share their stories.

Noah: We are really hoping all of our athletes and Martin who have dealt with their own personal injustice share their stories in a causal setting. That's one of the things that's really enlightening to me. Hearing personal stories of injustice from famous athletes that you would think would have it easier and just don't in a lot of cases.

For more information about the sweepstakes, please go to letsengage.com/mlk
For more information on the Drum Major Institute, please visit drummajorinst.org
To contact Engage, please go to letsengage.com, or follow them on Twitter and IG @let_engage