Sports agent David Falk's agency F.A.M.E. LLC, which conducts business as Falk Associates Management Enterprises and FAME, has initiated a lawsuit against former NBA player Evan Turner as well as his owned corporate entity EmTurn LLC.
The Complaint filed in the Superior Court of Delaware includes causes of action for breach of contract, unjust enrichment, and quantum meruit. FAME claims that it provided services to Turner throughout his career and that Turner, along with his company, failed to make agreed-upon payments as well as provide consideration for the reasonable value of those services that FAME delivered.
One would think that Falk, with his decades of experience, which include representing Michael Jordan, would know better than to represent a player for any amount of time without a signed agreement but, according to the Complaint, his company and Turner established their business relationship in Spring 2010 by way of an oral agreement. Thereafter, FAME claims that it served as Turner's exclusive agent to negotiate NBA and marketing deals, with EmTurn LLC acting as a loan-out company for Turner's endorsement activity.
FAME says that it procured and negotiated a contract for Turner with Li-Ning that guaranteed Turner at least $15 million over six years plus equity.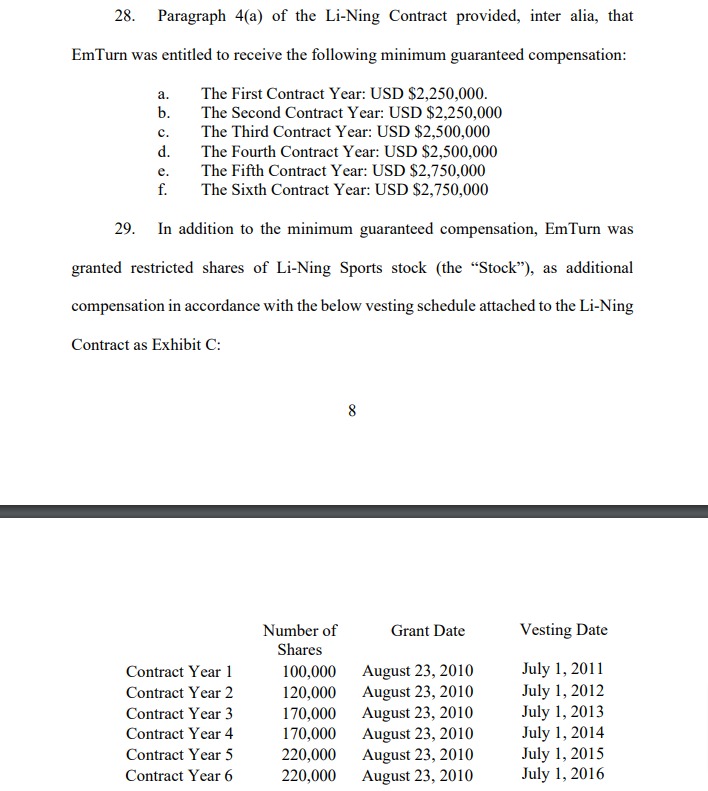 Falk's company has made numerous requests for commissions related to that deal and Turner, along with his company, has refused to comply. The Complaint argues that FAME's oral agreement with Turner entitles FAME to 15% of all compensation he or his loan-out company received on marketing and endorsement deals with compensation below $2 million and 20% for deals in excess of that amount.
To be clear, FAME admits that EmTurn LLC made most payments due to FAME based on the monies received from the Li-Ning contract. What is at issue is a final amount of $2 million that FAME claims are due based on Turner purportedly selling a portion of the stock that he was granted, which put $10 million in his pocket. FAME says that the monies actually belong to EmTurn LLC (and not Turner, individually) and that EmTurn LLC thus owes FAME 20% of that sum.
FAME benefits from the fact that EmTurn LLC appears to have at least partially performed by way of making payments to FAME under their agreement, but FAME will have a few hurdles to jump over as this case progresses.
First, if the Li-Ning contract was with EmTurn LLC, then FAME will need to effectively pierce the corporate veil to seek damages directly from Turner, individually. FAME attempts, in the Complaint, to characterize EmTurn LLC as nothing more than an alter ego of Turner given that it was formed for the sole purpose of loaning out Turner's services for endorsement and marketing agreements, Turner allegedly failed to observe corporate formalities, the company had no operating agreement, EmTurn LLC conducted no business outside of that which was directed and approved by Turner and, perhaps most importantly if true, Turner intermingled EmTurn LLC's money with his own personal funds and used the money of EmTurn LLC to pay his personal expenses as well as transferred money from EmTurn LLC's bank accounts to his personal bank accounts without adequate consideration. If FAME fails at piercing the corporate veil and Turner is dismissed in his individual capacity, and if EmTurn LLC is not capitalized, FAME could win the liability battle but lose the collectability war.
Second, FAME may not have a simple time enforcing an oral contract against Turner even if there was truly a meeting of the minds and, furthermore, establishing that the oral contract extended to EmTurn LLC after its creation (which was apparently after the oral agreement between FAME and Turner was created). Interestingly, the Complaint notes that the oral agreement was confirmed in a later written agreement, but the written agreement was not attached as an exhibit to the Complaint. The Complaint also claims that the written agreement did not in any way alter the oral agreement's enforceability, but that is hard to tell without first reviewing the terms of the written document. FAME may also have a statute of frauds issue if it is found that the oral agreement was not capable of being performed within the space of one year from the making thereof.
Even without a contractual claim, FAME seeks to be made whole through alternative forms of relief such as that Turner and EmTurn LLC have been unjustly enriched by FAME's assistance and that FAME properly relied on their promise to make payment (aided by the fact that EmTurn LLC purportedly already made some payments related to the Li-Ning contract).